Contact
320 Hayes Street
(between Gough and Franklin)
San Francisco, 94102
415.863.5545
Lunch
Tuesday – Friday 11:30 am to 2 pm
Dinner
Monday – Thursday 5 to 9 pm
Friday & Saturday 5 to 10 pm
Sunday 5 to 8 pm
SUMMER HOURS 2017
Hayes Street Grill will be CLOSED on Sundays and Mondays starting July 30, 2017 and for our annual vacation August 27 through lunch of September 5. We will be OPEN for lunch Wednesday, September 6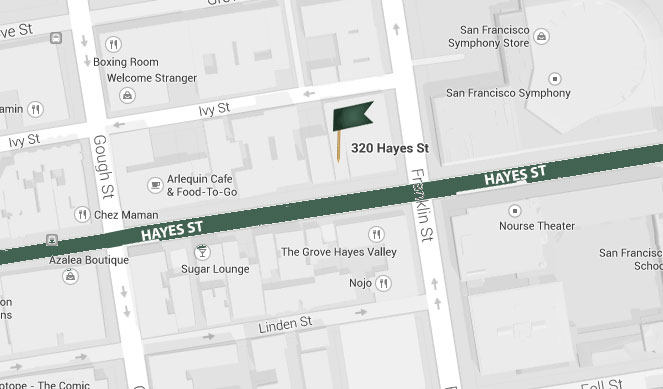 Parking
New Improved Parking at Civic Center Garage!
You can ALWAYS find a space at the Civic Center Garage, even at 7:30 p.m. on performance nights–a perfect time for a delicious local seafood dinner with leisurely conversation at Hayes Street Grill.
The Civic Center Garage is 2 blocks from Hayes Street Grill and 1 block from the Opera House and Davies Symphony Hall
Enter at 355 Mcallister (between Polk and Larkin).
The Civic Center Community Benefit District has added a guard in the elevator lobby on Tue-Sat evenings.
New brighter stairwell lighting has been installed and new maps and signage are coming soon. The elevators are fixed.
A neighborhood ambassador (in an orange uniform) now assists patrons on Grove between Van Ness and Larkin on all performance nights.
Plus $5 Event Rate at Civic Center Garage on these dates!
Wed Nov 4
Wed Nov 18 (Opera is at 6pm; Symphony is 8pm start)
Fri Nov 20
Sat Nov 21 (Opera is at 6pm; Symphony is 8pm start)
Sat Dec 5
Wed Dec 9
Sat Dec 12
Wed Dec 16
Thu Dec 17
Fri Dec 18
Sat Dec 19
Thu Dec 22
Wed Dec 23
Tue Dec 29
These dates were picked because they are evenings when there are multiple events in the SF Performing Arts Center.
Note that the following evenings have Bill Graham Civic Auditorium events in addition to SF Symphony, SF Ballet and SF Jazz performances.  There will NOT be $5 parking on these evenings but allow extra time for parking.
Sat Nov 14
Thu Dec 10
Fri Dec 11
There is metered street parking if you come early.
Garages
Performing Arts Garage (1 block north of Hayes Street)
360 Grove Street
Civic Center
San Francisco, CA 94102
(415) 252-8238
Civic Center
355 McAllister Street
San Francisco, CA 94102
(415) 863-1537
Open lots
There is one lot located 2 blocks south on Franklin Street & Oak Street.