40th Birthday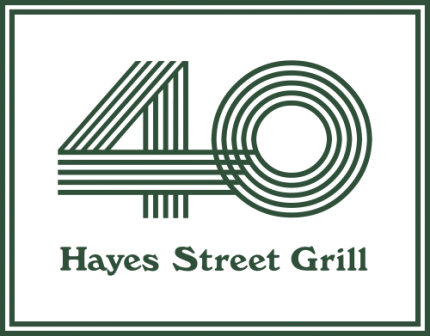 Hayes Street Grill's 4oth Birthday Celebration Week
Hayes Street Grill officially became a San Francisco Legacy Business in 2018. You are invited to come celebrate with us.
---
Sunday March 17, 2019
Come celebrate in our newly decorated dining rooms on St. Paddy's Day, the day we opened 40 years ago.
Corned Beef and Cabbage with Spring Vegetables and Horseradish Creme
Hog Island Oysters on the Half Shell
Grilled Delta Asparagus
Irish Coffee Sundae
+ our HSG menu
---
March 19 – 24
The party continues all week!
Any starter, main course and desert. 40
---
March 19 – 22   11:30 – 2 p.m.
Farmers' Market booth lunch in the Hayes Street dining room
Pan Fried Ekone Oyster Po' Boy 10
Pan Fried Ekone Oysters with Salad and Tartar Sauce 10
Grilled Salmon Sandwich with Hobbs Bacon, Lettuce and Cole Slaw 13.5
Dungeness Crab Cake Sandwich 13
Dungeness Crab Cake with Green Salad and Tartar 13